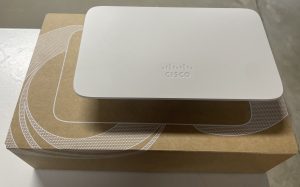 We've been a Meraki partner since before Cisco acquired them. We've always loved the product. Its power, flexibiltiy of management, and ease of setup & installation have always been incredible. But several of our clients have less than 10 people. So the full-blown Meraki line (Meraki Enterprise) was very hard to justify. Then the pandemic hit and Cisco raised prices on Meraki products twice in a year. Addtionally, Meraki has been hit VERY hard by supply chain issues. Think 90+ day lead times on most everything in the Meraki Enterprise lineup.
A while back, Meraki introduced the Meraki Go lineup. Aimed at very small businesses, the Go line promises cloud management with significantly simplified configuration at a fraction of what Meraki Enterprise access points cost. You get the basics of the Enterprise management dashboard, but that's about it. For most businesses, that's perfectly fine. And as a Meraki partner, the buying process for the Enterprise products has always been a lot more hassle than I feel it needs to be. We contact a distributor, the distributor places the order for us with Cisco, and then Cisco ships the hardware. Besides the hassle of requiring a middleman in the process, this also didn't allow for us to keep hardware on hand ready for us to resell to our clients. The Go lineup is set up so that we can stock a few pieces so we always have some ready for installation.
So I decided to check out the Meraki Go wireless access points (GR10) & bought a few. To this point, the setup for my home office has consisted largely of Meraki Enterprise gear. I use a Netgate 4100 pfSense router firewall, a Meraki MS220-48LP 48-port PoE switch, and two Meraki Enterprise access points - a MR42 and a MR33. So I'll have two of the GR10s replace the MR33 & MR42.
Unboxing Observations
The GR10s come in a very familiar Meraki box. Inside, you'll find. . .
GR10 access point
Mounting plate
AC adapter
Screw kit with wall anchors
Thin ethernet cable
Quick start card
Taking the AP out of the box, the first thing I notice is how light and plasticky it is. The construction is all plastic and it weighs probably half of what a MR33 weighs. But at the same time, we're talking about a device that costs a fraction of what an MR33 costs. On the back is a very familiar opening for the ethernet port, reset button, & power port.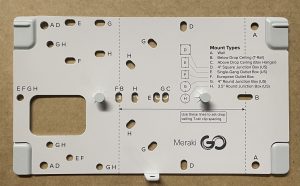 The mounting plate will be familiar to anyone who's installed a Meraki enterprise AP before. It's got pre-set screw openings for all of the standard junction boxes. It also has the screw openings for T-Rail drop ceiling mounts, but it doesn't include the clips. That said, if you have clips among your stash of left over mounting kits from other Meraki Enterprise installs, I'm willing to bet they'll work just fine here. One interesting difference is the Meraki Go AP doesn't attach to the plate like the Meraki Enterprise APs do. Instead of attaching with clips, the GR10 has teardrop-style mounting holes on the back of the AP and those slide onto the two posts on the mounting plate. Meraki used to do this with some of their Enterprise APs (MR12 & MR18 come to mind), but it's been a while. Personally, I like this setup better. Most of the time, I'd use the plate but it's nice to know I can wall-mount the AP without the plate. And as expected, there's provision for a security screw to lock the AP into place.
Initial Setup
The Meraki Enterprise product requires a paid cloud management license for each device. Meraki Go still requires a cloud management subscription, but these are free. You can add advanced security features as a paid upgrade, but the base cloud manageent is no charge. The quick start guide walks you through using the smartphone app to do setup. I decided instead to do the initial setup via the web console at web.meraki-go.com. Account creation was no big deal, but it did seem to take some time to create the account. I actually got the "verify your account" email while the web UI still said "Processing". 
Important Note: If you have a Meraki Enterprise dashboard account, you cannot use that email address for your Meraki Go account.
Adding the hardware was as easy as plugging in the SN. If I'd have done the setup from the app, I probably could have added them by scanning a QR code. Once I'd added my two APs, it prompted me to create my WiFi networks. I entered an SSID name, password and told it whether it was a guest network or not and it was created. Meraki Go limits to a max of 4 SSIDs, which is no problem for my small business clients.
The first thing that's apparent is that there aren't nealy as many levers and switches as with the Meraki Enterprise dashboard. But the important ones are there - 
Radio settings (2.4GHz only, 5GHz only, Both, or Both with Band Steering)
Channel width for 2.4 and 5GHz
Transmit power for each frequency
Schedules
Captive Portal
Basic content filtering and trafic shaping.
By default, the APs are set to mesh if they lose the wired connection. Immediately turned that off because mesh should die a fiery and horrible death.
Dashboard
If you're used to the Meraki Enterprise dashboard, this will appear really limited. But the most important information is available. The web admin is pretty much a replica of the iOS app UI, but I prefer it since it's bigger. Because of that, it's definitely more clicky to get to information. On the main page there's not a list of clients you can drill down into like on the full Meraki dashboard. It will show you # of devices connected, click that then it will list the devices. Then click the device entry to see things like which AP it's associated to, signal strength, last-seen,  and basic usage stats. Like Meraki Enterprise, you can set the time threshhold between Last 2 Hours, Past Day, Past Week, & Past Month. So it needs more clicks but it makes sense from the standpoint of intending the devices to be managed through a smartphone. But I feel like all the info I'd need to manage my clients' networks is there.
Like with Meraki Enterprise, if a Meraki Go device goes offline you'll get an email notification. But in the Go dashboard, I couldn't see any way to configure this as In the Enterprise dashboard. i.e. the time threshholds, who gets the alerts, etc. I'm assuming Meraki Go sends these to all admins. Further, a lot of the more the advanced goodies in fine tuning WiFi in the Enterprise dashboard aren't here. No adjusting DFS or the like.
Meraki Go doesn't do multiple locations in one organization like Meraki Enterprise. With Go, each location is separate account and you're basically just adding yourself as an admin to each. Functionally, it's one (and only one) network per org/login. So if you need true multi-site capability, this isn't for you.
Performance (Unscientific)
Prior to removing the MR42 and MR33, I fired up Speedtest.net from my iPhone 12 Mini and got 600Mb down and 45Mb up - full speed of my internet connection. Swapping in the Meraki Go APs, I re-ran the test from my iPhone and consistently got 400Mb down and 45Mb up. Testing with a M1 MacBook Air, I got the same 400/45 as with my phone. So not quite as fast on the Go APs, but I'm honestly not sure anyone would notice in real-world use. That said, I'm confident that these wouldn't handle high density well. But for customers with more than ~20 people, I'd look to deploy Meraki Enterprise devices anyway. But for customers with less than 20 or so people, I think these should be pretty fantastic.
Bottom Line
Overall, I'm really impressed with the Meraki Go wireless access points. I've been a Meraki partner for quite a long time. I really love the product, but they've long been priced out of reach of my smaller clients. Combined with Cisco's current supply chain issues making delivery times crazy, Meraki Enterprise just became a very tough fit in a lot of cases. Until now, I'd been working with Ubiquiti for wireless access points as an alternative. While the Ubiquiti product is quite solid, I just don't relate well to their dashboard. And it requires a controller - either as a Cloud Key device, an app running on a computer on the client's network, or something I have to host in the cloud. The Meraki Go access points most definitely have limitations, both in administration and hardware. But it nails the basics and for my smaller clients I think these should be close to perfect.